A Chemical Peel is one of the most popular aesthetic treatments in Singapore.
The process involves applying a chemical solution to the skin's surface to enhance and smooth its texture by removing the skin's damaged outer layers.
 Chemical Peels are beneficial to people who have face blemishes, wrinkles, or uneven skin pigmentation. It is said to be one of the safest and most effective cosmetic procedure available.
Chemical Peels come in a variety of acid types, strengths, and combinations to help improve skin issues. 
Lactic acid, Glycolic acid, Salicylic acid, Phenol, and TCA are all often used acids, either alone or in combination.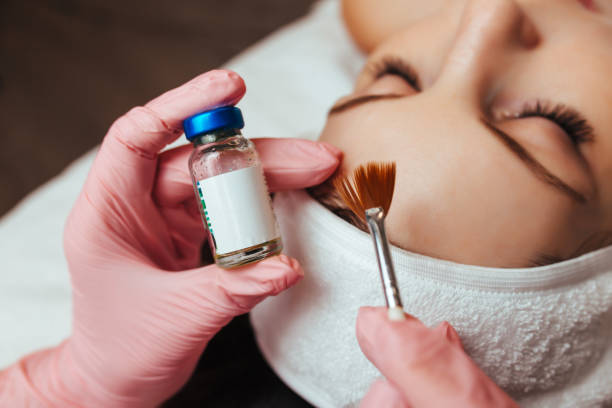 How Does Chemical Peel work?
During a Chemical Peel treatment, the skin is thoroughly cleansed, and depending on the patient's skin condition, the right concentration of acid is applied to the treated region. 
During the procedure, you may experience an itching or stinging feeling. A neutralizer may be used to neutralize the acid depending on the type of Chemical Peel used. If any stinging occurs during the Chemical Peel treatment, a cool pack will be applied. Your skin may then feel tight after the initial stinging sensation of a Chemical Peel treatment has faded off. 
To avoid cracking, patients should apply the quick recovery cream twice a day. Topical acne treatment, harsh cleansers, toners, and abrasives such as scrubs should be avoided for at least 3 days or as directed by your doctor. Between 5 and 7 days later, the skin may start to flake. Please let the peeling skin fall off on its own. During the second week, a secondary peel in the form of dry scaling skin may occur. For at least the first three months, using sunscreen is strongly advised. Generous application of moisturizer will also be helpful.
Chemical Peel is one of the oldest anti-aging treatments for mature skin since it is typically inexpensive and convenient. It is still in use by Doctors today for skin resurfacing, scar removal, and the treatment of different forms of skin pigmentation.
Chemical Peels are perfect for persons who want to reclaim their youth by exfoliating dull, blotchy skin and revealing the new skin beneath.
Benefits of Chemical Peel:
We Take Your Beauty Seriously
Bring Out the Beauty In You Today! Get in touch with us to find out how we can help you achieve your beauty goals.