Ultherapy® is the first non-invasive skin tightening and lifting treatment with no downtime that has been approved by US FDA (Food and Drug Administration). 
It uses micro-focused ultrasound to lift, tone, and tighten loose skin by initiating the body's natural healing process.
Our skin's response to this energy is to recondition fatigued skin by encouraging the growth of new collagen. 
As a result, the skin tightens and gradually lifts — or shifts — back into a more youthful posture and shape.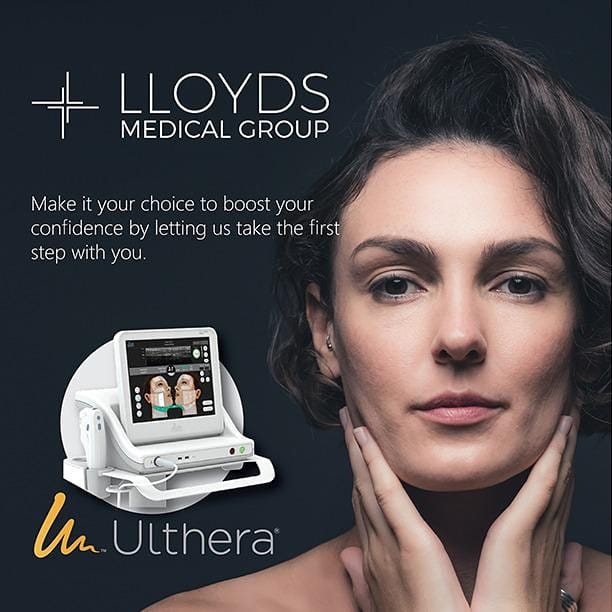 How Does Ultherapy® work?
Ultherapy® increases collagen production by penetrating deep into the skin with focused ultrasound waves while causing no damage to the skin's surface.
Collagen is a type of protein found in the body that aids in the stabilization of the skin. A healthy level of collagen is required to maintain the suppleness and firmness of your skin. Collagen production, on the other hand, declines as people get older. and causes the cheekbones, jawline, neck, and brow area to sag and droop.
Ultherapy® works by delivering ultrasonic energy to the deep layers of our skin, helping in the production of collagen in these layers. The device heats the skin's deep layers, warming the tissues and muscles while also stimulating collagen synthesis. 
Neocollagenesis is a skin regeneration process in which the body uses its own collagen to repair and rebuild the structure of the skin. As a result, drooping skin is lifted and straightened, and fine lines and wrinkles on the chest are reduced.
Ultherapy® targets collagen loss in the deep layers of your skin, which is one of the most challenging signs of facial aging.
Collagen loss in the deep layers of your skin causes saggy jowls, a double chin, and droopy eyes. The SMAS layer is your skin's lowest layer (superficial musculo-aponeurotic system). The SMAS layer is the same skin layer that plastic surgeons tighten during a face lift.
Ultherapy® treatment stimulates collagen creation by directing micro-focused ultrasound energy into the deep layers of your skin under ultrasound supervision. With little to no downtime, you can resume your everyday routine after the treatment
Ultherapy® helps:
Ultherapy® - Stimulating Neocollagenesis
We Take Your Beauty Seriously
Bring Out the Beauty In You Today! Get in touch with us to find out how we can help you achieve your beauty goals.