Hydrafacial™ treatment takes its name from the root word- Hydrate: "to cause to absorb moisture".
Hydrafacial™ removes dead skin cells and pollutants while simultaneously soaking the new skin with solutions that cleanse, hydrate and moisturize.
Using unique skin-serums and boosters, Hydrafacial™ is able to treat all skin issues such as pigmentation, fine wrinkles, acne, and blackheads.
Hydrafacial™ is also safer than traditional facials. Hydrafacial™ delivers consistent results because its effectiveness is not therapist-dependent.
With zero downtime, Hydrafacial™ is a very popular facial treatment among our customers especially before special occasions.
At Lloyds Medical Group, we use the latest HydraFacial MD® Elite machine for all our treatments.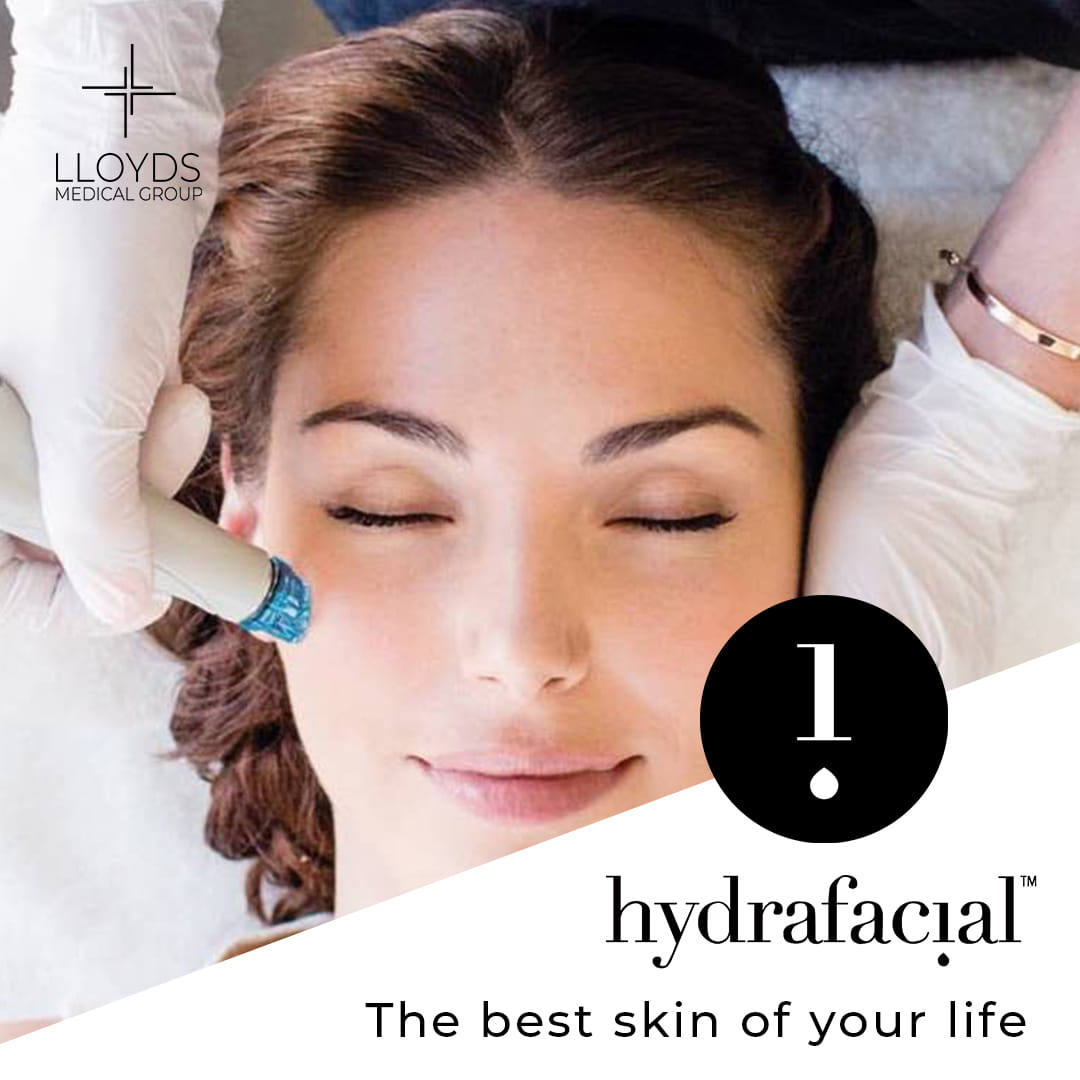 How Does Hydrafacial™ work?
Hydrafacial™ consists of a four-step process which is suitable for all skin types:
Step 1: Cleansing and Exfoliation
Step 2: Acid Peel
Step 3: Extraction
Step 4: Hydration
During the 'cleansing and exfoliation' process, the face is saturated with a solution that deeply cleanses and exfoliates skin, softening sebum and dislodging dead skin cells in preparation for the extraction procedure. 
Next is a gentle acid peel to loosen dirt and debris from the pores while the patented vortex suction extracts the impurities. 
The final step involves saturating and nourishing the face with the antioxidant-rich solution that soothes, rejuvenates and nourishes the skin.
Hydrafacial™ rejuvenates your skin and is suitable for all ages and skin types.
Delivering consistent results due to its revolutionary and patented technology, Hydrafacial™ is painless and with zero downtime. You can witness visible skin improvement after just one treatment. Hydrafacial™ can also be tailored or complement with other skin rejuvenation treatments based on  your skin concern.
Hydrafacial™ helps:
Our Customer Experience of Hydrafacial™
Our Platinum Award for Hydrafacial™
The CEO of Hydrafacial™, Clint Carnell, made an appearance video congratulating us and our Doctor, Dr. Frank Lee for performing 25,000 Hydrafacial™ treatments in 2020.
We Take Your Beauty Seriously
Bring Out the Beauty In You Today! Get in touch with us to find out how we can help you achieve your beauty goals.