Hyaluronic Acid Skin Booster
What is Hyaluronic Acid Skin Booster?
Hyaluronic Acid is a naturally occurring substance in our skin that aids in the hydration and repair of our skin. 
The unique property of hyaluronic acid is that it retains water (** hydrophilic action **) and aids in the maintenance of our skin's suppleness and connective tissue's three-dimensional organization.
Every day, our body produces and destroys around 5 grams of hyaluronic acid for tissue rejuvenation. Our body's generation of hyaluronic acid slows down with aging, causing our skin to become dehydrated and lose its suppleness and firmness over time.
Hyaluronic Acid Skin Booster is formulated to provide skin a healthy glow and deep hydration, while also nourishing the skin and giving it a more natural appearance. 
It revitalizes your face and gives your skin a naturally fresh appearance.
Hyaluronic Acid Skin Booster in Singapore, Malaysia, Taiwan and Hong Kong is also widely known as 水光针.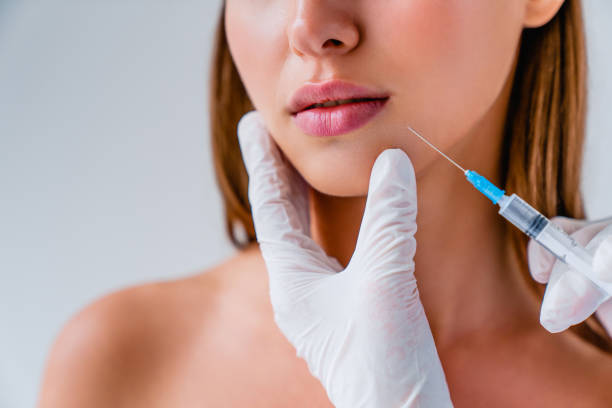 How Does Hyaluronic Acid Skin Booster work?
Hyaluronic Acid Skin Booster injection involves a series of moisturizing micro-injections of long-lasting hyaluronic acid (also known as stabilized HA), a water-loving molecule produced naturally in the body that helps to keep the skin hydrated. 
Stabilized HA is a soft, gel-like substance that absorbs water and hydrates the skin deeply, improving firmness, elasticity, and smoothness in the treated regions.
Why choose Hyaluronic Acid Skin Booster ?
Hyaluronic Acid (HA) has the ability to attract and bond to water molecules. Injecting HA into the dermis of the skin causes water to flow from the surrounding areas into the dermis. This moisturizes the skin quickly, providing the following benefits:
We Take Your Beauty Seriously
Bring Out the Beauty In You Today! Get in touch with us to find out how we can help you achieve your beauty goals.